Experience Alaska By Land & Cruise with
Holland America Cruise Lines
You will cruise
on the beautiful ship
The Volendam
Daily Itinerary
JOIN US FOR THIS EXCITING
LAND AND CRUISE ADVENTURE
You will travel by train, planes and motorcoaches - It will be amazing!!!
Friday, July 6 Fly from your Home City to Anchorage, Alaska
Transfer To Westmark Anchorage Hotel and
Meet Your Journey Host
Saturday, July 7 Transfer from the Hotel to Your Rail Depot and board the
McKinley Explorer: Anchorage/Talkeetna
Depart 9:15 a.m., Arrive 12:15 p.m.
Transfer From Rail Depot to your Denali Area Hotel
Sunday, July 8 Tundra Wilderness Tour this morning
Denali Afternoon At Leisure
Monday, July 9 Depart Denali to Fairbanks by Motorcoach
Afternoon Gold Dredge 8 from 1:45 p.m. to 3:45 p.m.
Transfer from Gold Dredge to the
Westmark Fairbanks Hotel
Tuesday, July 10 Fly From Fairbanks to Dawson
Transfer to the Westmark Inn Dawson for 2 nights
Wednesday, July 11 Dawson Day At Leisure, Klondike Spirit
Thursday, July 12 Depart Dawson by Motorcoach at 7:30 a.m.
Lunch at Minto/Klondike Highway
Arrive Whitehorse at 5:30 p.m.
Friday, July 13 Depart Whitehorse to Fraser by Motorcoach at 7:30 a.m.
Arrive at 11:00 a.m. at the Rail Station
Depart by Rail to Skagway, staying that night at the Westmark Inn
Saturday, July 14 Transfer from the Hotel to the Ship, departing at 9:00 p.m.
Sunday, July 15 Glacier Bay - from 7:00 a.m. to 4:00 p.m.
Monday, July 16 Ketchikan, Alaska - Arrive 7:00 a.m., to 4:00 p.m.
Tuesday, July 17 Scenic Cruising of the Inside Passage
Wednesday, July 18 Vancouver, WA - Arrive at 7:00 a.m., and depart ship
Transfer from Ship to Airport to fly home
INFORMATION ON SOME OF THE
AMAZING PLACES YOU WILL SEE AND EXPERIENCE!
KETCHIKAN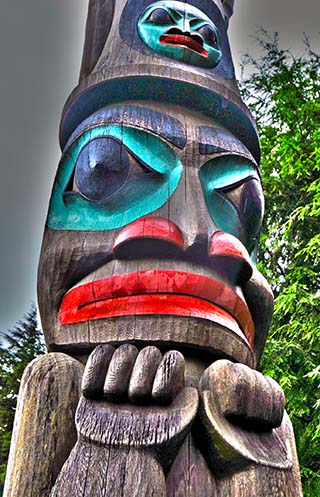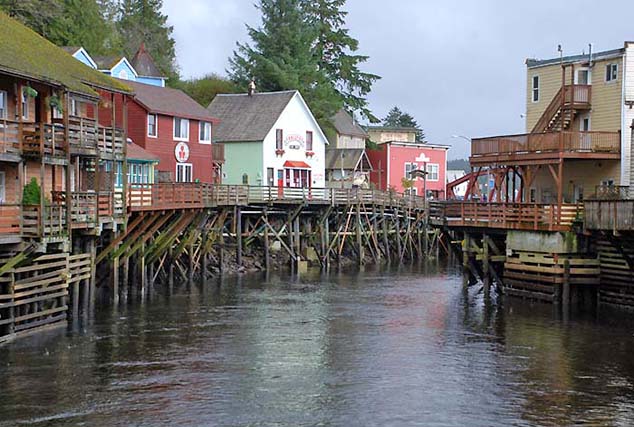 The beautiful community of Ketchikan is situated along the shores of Alaska's Inside Passage within the heart of the sixteen million acre Tongass National Forest. Evergreen mountains rise out of the water, the lush green landscape nurtured by the abundant rainfall of the temperate rainforest environment. The community is comprised of three islands, Revillagigedo, Gravina and Pennock and transportation between them requires a boat or ferry ride across the Tongass Narrows.
Ketchikan is 90 minutes by air from Seattle and 36 hours by sea. The second largest cruise port in the state, they are a popular destination for independent minded travelers too, due to superb fishing, outdoor recreation, thriving Native culture and amazing scenery. The bounty of Wild Alaska seafood offerings at local dining establishments is yet another delicious reason to visit.
Home to 13,700 year around residents, Ketchikan is a vibrant, hard working community. One of "America's Top 100 small arts communities" Ketchikan's impressive variety of shops and galleries feature work by many of the island's resident artists and an assortment of souvenir items and unique gifts that make shopping in our community a must do for any traveler.
This close knit community of 13,700 offers visitors a remarkable array of activities and attractions that highlight the town's history, industry and culture, bring you up close to the resident wildlife or transport you into the midst of wilderness.
GLACIER BAY NATIONAL PARK
Positioned on the Alaska panhandle west of Juneau, Glacier Bay National Park, a UNESCO World Heritage Site, is managed by the U.S. National Park Service.
Glaciers descending from high snow capped mountains into the bay create spectacular displays of ice and iceberg formation.
In total the park and preserve cover 5,130 sq. miles (13,287 sq. km). Most of Glacier Bay is designated wilderness area which covers 4,164 sq. miles (10,784 sq km).
Wildlife in the area includes both grizzly and black bears, moose, sitka black-tailed deer, mountain goats, dall sheep, wolves, Canada lynx, sea otters, harbor seals, Steller sea lions, Pacific white-sided dolphins, orcas, minke whales, humpback whale, bald eagles, gulls, waterfowl, and salmon.
VWonderful Experiences On Your Cruise Ship
Fun Activities, Dining & Entertainment
PRICES INCLUDE:
CRUISE FARE, PORT CHARGES,
GOVERNMENT TAXES & ALASKAN STATE FEE
PRICES BELOW DO NOT INCLUDE:
ROUND-TRIP TRANSFERS BETWEEN AIRPORT & PIER
COST ON THIS IS $44.00 PER PERSON
ROUND-TRIP AIRFARE FROM YOUR HOME CITY
(We are happy to help you
book your airfare if you would like)
INTERIOR STATEROOM - J CATEGORY
Starting At $3,469.00Per Person, Double Occupancy
OCEANVIEW STATEROOM - C CATEGORY
Starting At $3,739.00 Per Person, Double Occupancy
VISTA SUITE - B CATEGORY
Starting At $4,499.00 Per Person, Double Occupancy
VIS
VISTA SUITE - A CATEGORY
Starting At $4,599.00 Per Person, Double Occupancy
This is an incredible itinerary and a
chance to experience Alaska by both
Land and Cruise! Don't miss out!
Please contact us to begin your adventure!
You can fill out the application on our website and mail that in and then call in your credit card information.
Travel Passport
Carla Teasdale or Joan Hahn
800-677-4750, 801-423-1081
e-mail: carlatravelp@yahoo.com or joantravelp@yahoo.com